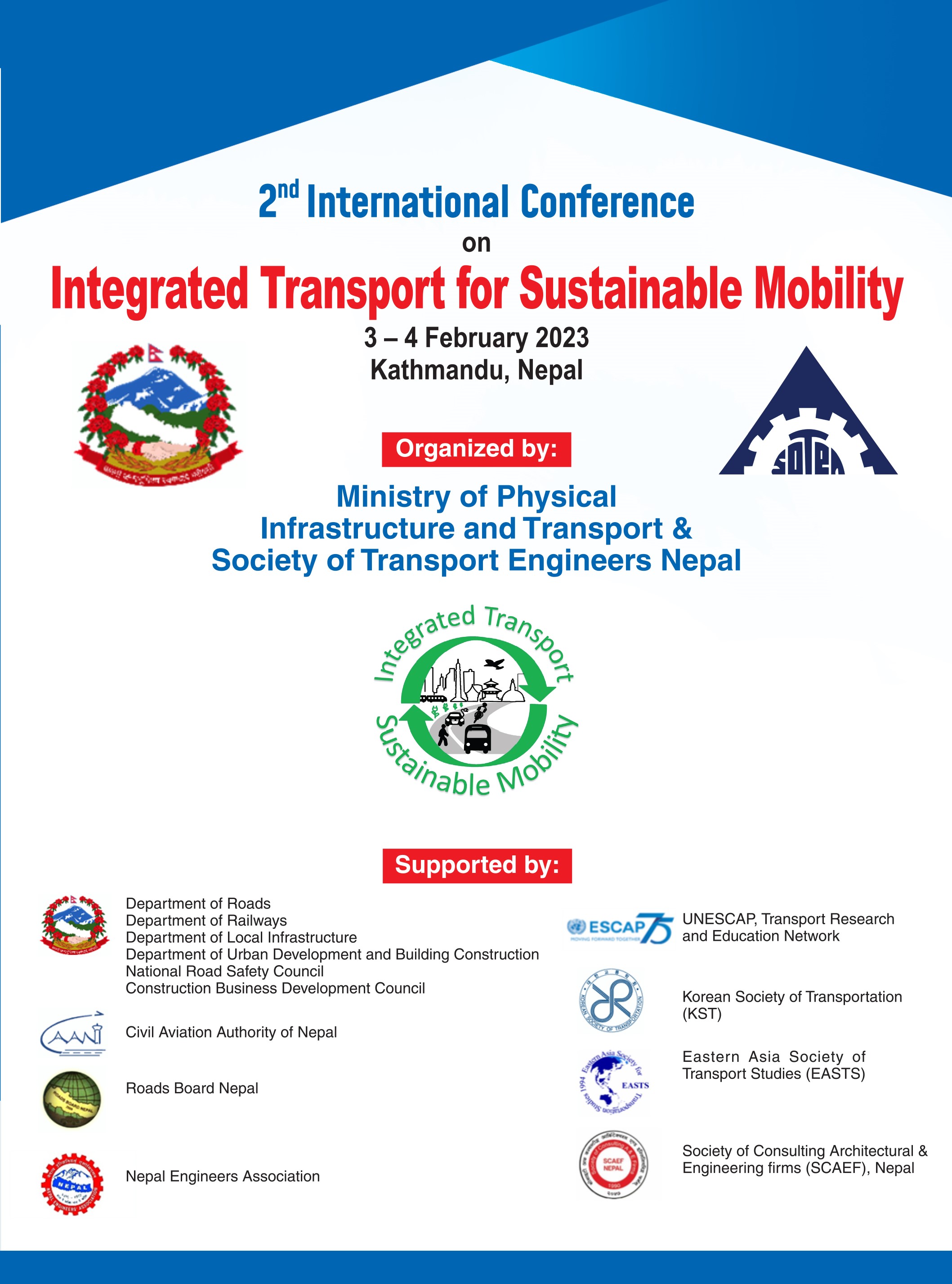 Integration of transport systems refers to the multi-modal transport system with physical interface between the modes and requiring operational combination between modes in which service integration plays a vital role. This interprets the smooth movement of passengers and freight over various modes of transport. In other words, transport integration can be defined as the organizational process through which the planning and delivery of elements of the transport system are brought together, across modes, sectors, operators, and institutions, with the aim of cumulative social benefits including the economic as well as environmental aspects.
An integrated system of planning ensures quality development practices by providing efficient and effective transport services and reducing adverse effects on the society. Nepal is prioritizing the development efforts in transport infrastructure, which is well reflected in the periodic plans and the annual budget programs at the central, provincial as well as local levels. Efforts are aimed at achieving safe, easy, and quality transport services through the expansion of road networks, air transport, railways, and waterways as stipulated in the current 15th Five Year Plan. Some efforts are being made for the development of various modes of transport as an integrated system during the planning process. Coordination among the transport development authorities remains to be the main challenge leading to higher development costs and waste of resources. Similarly, planning for the overall development issues is not being addressed.
Development objectives cannot be attained by the segregated approaches of planning with reference to the institutional structure and process. It would affect the national economy and its development pace. Similarly, the transport sector's efforts are aimed at overall national prosperity. Therefore, it has to be linked with the various activities and services for all tiers of administrative, economic, as well as social structure.
In these circumstances, the Society of Transport Engineers Nepal (SOTEN) has taken various initiatives to bring the stakeholders into a common forum for a seamless interface and a better understanding of the approaches and efforts by planning and implementation of transportation systems. Recently, SOTEN has successfully organized a National Seminar on "Integrated Transport Development: Issues and Way Forward". The National Seminar has raised many issues related to the review of national-level policies, plans, and projects for the integration of transport across modes, services, and operations.
This International Conference is being jointly organized with the Ministry of Physical Infrastructure and Transport (MoPIT) with support from the Department of Roads (DoR), Department of Railways (DoRW), Department of Transport Management (DoTM), Roads Board Nepal (RBN), Department of Local Infrastructure (DOLI), Civil Aviation Authority of Nepal (CAAN) and the Department of Urban Development and Building Construction (DUDBC). Similarly, the event is being supported by international agencies such as the Korean Society of Transport (KST), Korea Transport Institute (KOTI), Transport Research and Education Network of UNESCAP, and the Eastern Asia Society of Transport Studies (EASTS).
The main objective of this conference is to disseminate the state-of-the-art approaches, proven best practices, and scientific know-how for addressing the integration issues for sustainable mobility. At the same time, it aims to provide a greater opportunity for the transport sector professionals to understand the recent research outcomes on this issue. The conference is expected to produce an important note of conference proceedings for decision support to the planning and implementing agencies in this sector.
The theme of the conference is "Integrated Transport for Sustainable Mobility". The papers and presentations in the conference are categorized into two types: technical and research papers. The broad theme of the conference has been organized into various specific issues in the transport sector.
3.1 Paper/Presentation Category
The technical part of the conference has been organized into two categories of papers and presentations as shown below:
a. Practical papers: This category targets case study papers of National, Regional or Local level planning and implementation with an emphasis on the integration of transport infrastructure and services.
b.Research papers: This category targets academic and technical research papers pertaining to the emerging issues of sustainable transport.
All papers should be submitted in three stages: abstract, full paper and presentation slides. Invited papers can be submitted as extended abstracts and presentation slides.
3.2 Papers/presentation topics
The conference papers are expected to be related to the following areas of transportation (the list is not exhaustive):
Intermodal integration (air/rail/road/water) and accessibility analysis
Improvement in the urban transport by integrating the modes and services
Transport policy formulation for integration in transport
Best practices in electric mobility
Consideration for non-motorized transport
Transit-orientated development, improving public transport
Implementing Intelligent Transportation Systems (ITS)
Financing in transport infrastructure development
Cross-border transport and international trade routes
Transport safety
Freight transport
Transport tourism
Urban/regional transport planning
Alternative fuel for transport efficiency
The Organizing Committee for this conference is as:
Coordinator: Mr. Prabhat Kumar Jha, Joint Secretary, MoPIT
Members:

Mr. Arjun Jung Thapa, DG Department of Roads
Mr. Rohit Kumar Bisural, DG Department of Railways
Dr. Tok Raj Pandey, DG Department of Transport Management
Mr. Ganesh Bahadur KC, ED Roads Board Nepal
Mr. Surendra Mohan Shrestha, DG, Department of Urban Development and Building Construction
Mr. Ishwor Chandra Marahatta, DG, Department of Local Infrastructure
Mr. Pradeep Adhikari, DG Civil Aviation Authority of Nepal

Member-Secretary: Prof. Dr. Padma Bahadur Shahi, President of SOTEN
The overall technical and scientific aspects of the conference will be managed by the Technical Committee of the Conference. The committee is comprised of international as well as national experts in the transport sector.
Coordinator: Dr. Surya Raj Acharya, Executive member, SOTEN
Members:

Prof. Dr. Satish Chandra, IIT, Roorkee
Prof. Seonha Lee, President of KST
Prof. Jin-Hyuk Chung, Senior Vice President of KST
Prof. Gautam Bir Singh Tamrakar, IOE, Tribuvan University
Prof. Dr. Thusitha Chandani Shahi, Nepal Engineering College, Pokhara University
Dr. Bijaya Jaishi, Superintendent Engineer, Dept. of Roads
Dr. Hare Ram Shrestha, Past President, Nepal Engineers Association
Dr. Madan Bandhu Regmi, UNESCAP
Dr. Partha Mani Parajuli, Senior Traffic and Transport Engineer, Brisbane, Australia
Dr. Chandra Bahadur Shrestha, Nepal Transport Development Research Center

Member Secretary: Dr. Rojee Pradhananga, IOE, Tribhuvan University
Contact email: technical.ic@soten.org.np
6.Conference Advisory Committee
Mr. Gopal Prasad Sigdel, Secretary, MoPIT
Mr. Tulasi Prasad Sitaula, Former Secretary, MoPIT
Mr. Devendra Karki, Former Secretary, MoPIT
Mr. Rabindra Nath Shrestha, Secretary, National Vigilance Center
Mr. Birendra Bahadur Deoja, Former Secretary, MoPIT
Mr. Ramesh Singh, Secretary, MoUD
Mr. Mani Ram Gelal, Secretary, Ministry of Water Supply and Sanitation
Ms. Pramila Devi Bajracharya, Secretary, Ministry of Education, Science and Technology
Mr. Keshab Kumar Sharma, Secretary, Ministry of Irrigation and Water Resources
Mr. Lal Krishna KC, Immediate Past President, SOTEN
7. Conference Registration and Fee
The conference registration form can be submitted online: www.soten.org.np
The registration fee scheme is as:
Nepalese participant: NRs. 15000.00 (Students registration NRs. 10,000.00)
Participant from SAARC Countries: NRs. 20,000.00 (Student registration NRs. 15,000.00)
Foreigner: US$ 250.00 (Student registration US$ 200.00)
The registration fee includes the charge for conference kit, lunch and a reception dinner.
Accommodation can be managed at Conference venue on demand
The key dates for the paper submission are:
30 November 2022: Submission of abstracts,
10 December 2022: Notification of acceptance of the abstract;
15 January 2023: Deadline of the submission of full papers
20 January 2023: Deadline for the registration
25 January 2023: Deadline for the submission of presentation slides
Detail guidelines for the abstract and full paper submission can be found online in www.soten.org.np.
9. Conference Secretariat:
Address: National Road Safety Council Office, Roads Board Nepal Office building, Minbhawan, Kathmandu
Contact:

Tel: 977- 9741660286
Email: conference@soten.org.np

Website: www.soten.org.np
The Conference will be held in Kathmandu within the premises
The Everest Hotel (www.theeveresthotel.com)